Cable Repair and Replacement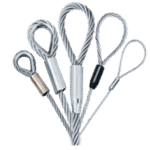 If your garage door not operating, a snapped cable could be one of the reasons. However, to determine if the cable is actually what caused the issue various inspection procedures are required. Other issues can also cause the garage door not to work, and this is why inspection is very important. If you notice that the door lowers too fast, this problem should be repaired immediately to prevent any potential injuries while opening or closing the garage door. In this case, replacement is the only solution to this problem, a garage door that lowers too quickly is caused by a weak
spring
or broken cable.
We Do Cable Replacement For Residential and Commercial Garage Doors
Garage Door Roller & Cable Repair

Cables and Rollers help your garage door work smoothly and safely. However, these parts can become damaged or worn over time and prevent your door from opening and closing properly.
ADR Garage Door
provides expert garage door cables and rollers repair services to keep your door functioning at its best. Our licensed and trained technicians drive fully-stocked trucks and arrive at your home AT THE SAME DAY ready to fix your door with the
scheduled
appointment time.
When a Garage Door Cable Breaks, It Is Usually Due To One Or More Of These Reasons:
wear-and-tear/ aging
A jam in the track while in operation
Vehicle damaged the door
Overzealous closing actions/ lifting
Lack of regular maintenance
With a broken cables the door will fall out-of-balance and because of that it will not open. This can be both possibly quite dangerous and frustrating as well, since the garage door will remain in the same position until the cables are replaced or repaired.
The most significant safety consideration when performing a garage door cables repair relates to the torsion springs. Garage door springs are under tension, and when a cable breaks, this tension must be released before the repair can be attempted. Doing so without the proper tools can result in:
Personal injury
Additional property damage
A full garage door replacement