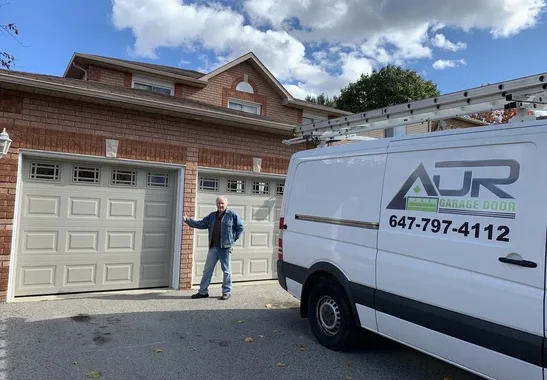 About ADR Garage Door
ADR Garage Door is a family-owned business and company with over 12 years of experience serving the greater Toronto area and Simcoe County. We take pride in providing a great service to our customers with top-quality, garage door repair services, opener installation, and opener maintenance services at affordable prices. Our team of skilled technicians are dedicated to your success and ensuring your garage door is functioning properly and safely. Count on us for all your repair and installation needs, with expert services available 7 days a week, including emergency repairs.
Our financing options include low monthly payments and interest rates, making it easier for you to get the garage door service you need without sacrificing quality or safety. Contact us today!
Buy Now, Pay Later: Affordable Garage Doors Financing
If you're in need of garage door repair or replacement, you may be hesitant due to the potential costs involved. However, at ADR Garage Doors, we believe that everyone should have access to safe and functional garage doors, regardless of their financial situation. That's why we offer flexible financing options to help you manage the cost of your repair or replacement. By choosing us, you can have peace of mind knowing that your garage door is in good hands and that you won't have to break the bank to get it fixed. Let us help you keep your home safe and secure with our expert garage doors services.
Need a garage door fast? We have a large stock of top-quality doors and offer short lead times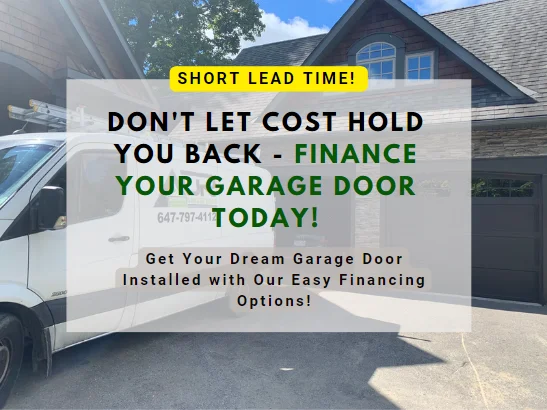 GARAGE DOOR SERVICE
Emergency Garage Door Repair & Service (647) 797-4112
When you're experiencing an emergency garage door issue, you need a reliable and fast solution to get your garage door back up and running again. That's where ADR Garage Door comes in. We provide emergency garage door repair services to ensure that our customers have access to prompt and professional garage doors installation and repair services when they need them most. Our team of skilled technicians is equipped with the necessary tools and expertise to handle any emergency residential or commercial garage door problem, from broken springs and damaged panels to no sensors and malfunctioning openers. We prioritize customer satisfaction and strive to resolve emergency residential or commercial garage door issues quickly and efficiently, so you can get back to your daily routine with minimal disruption. Contact us today for emergency garage door repair services.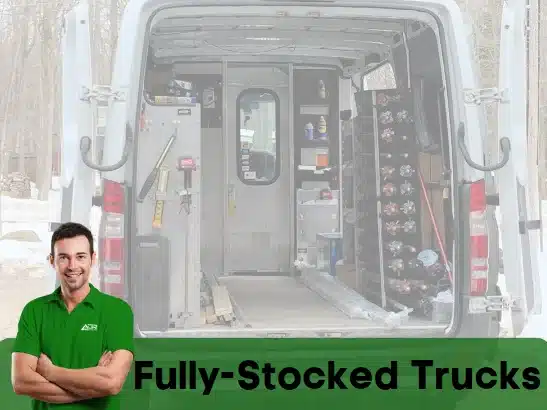 Complete Your Garage Door Upgrade With:
Garage Door Frame - Aluminum Capping
Looking for a practical and stylish solution to protect your garage door from the elements? Look no further than Aluminum Capping. Our garage doors capping is designed to provide a sleek and polished finish to your garage door while also serving as a protective shield against harsh and dangerous weather conditions. Aluminum capping available in all colours.
Fresh New Look
Made from high-quality aluminum, our capping is durable, low-maintenance, and available in a variety of colors to complement your home's exterior. Our team of experienced professionals will work with you to ensure a perfect fit for your garage door, and we'll handle the installation process from start to finish.
MyQ Smart Garage Door Openers
With LiftMaster MyQ technology, you can control and monitor your garage door from anywhere using your smartphone, tablet, or computer. You'll receive real-time alerts when your garage door is opened or closed, giving you peace of mind and added security. Another great feature Amazon Key allows delivery directly to your LiftMaster garage door opener.
Control Your Garage Door system
MyQ technology also allows you to schedule and monitor access for family members, friends, and service professionals, making it easy to manage your garage door and keep your home secure. LiftMaster also integrates with Amazon Key In-Garage Delivery through its LiftMaster MyQ app.
Don't Wait Weeks for a New Garage Door
Looking for fast and reliable garage door installation? Look no further than ADR Garage Door! With a short lead time of just four weeks or even sooner, we'll have your new door up and running in no time. Plus, we offer free quotes - just send us an email or give us a call with your door size, and we'll provide you with a price. Contact us today to get started!
Reliable Emergency Garage Door Repair
At ADR Garage Door, we know that garage door problems can happen at any time - that's why we offer emergency repair services to help you get back on track. With quick response times and expert technicians, we'll have your garage door repaired in no time. Contact us today for a free quote
Your Garage Door Repair Company
SEE WHY WE'RE THE BEST