Commercial Spring Repair - Up to 5 Yrs Warranty
You cannot afford to be reluctant when it comes to residential or commercial spring repair because a slight error from this door can jeopardize the safety of your business. When it comes to commercial spring repair, one of the commonest problems is related to the spring. There are two commercial garage door springs namely: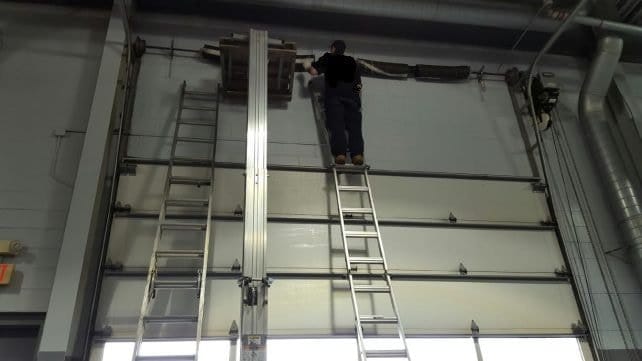 Torsion springs
They are mounted on both sides of the top of the door. They work using the "twisting mechanism". Torsion springs can be really dangerous to fix if you don't have the experience and appropriate tools/equipment.
Extension Springs
They are usually long, weighty, and side-mounted. They work using the "stretching mechanism". These springs deteriorate due to the exertion of force and frequent usage.
In most cases, these springs are usually broken, damaged or misaligned. Whatever the case, make sure you get it fixed on time.
---
What Really Causes Broken Springs
There are three major causes of broken or damaged springs in garage doors.
Wrong installation by a novice or an inexperienced technician.
The spring can break as a result of age.
Improper maintenance and lubrication of springs.
Don't panic, we are here to help you resolve commercial spring issues. ADR Garage Door in Richmond Hill provides spring repair for your garage door. Our technicians know how to tackle various issues related to garage door springs. We are updated with the right tools and latest technologies that can be used to get the job done.
---
Ensure Safety by Hiring a Commercial Spring Repair Company Today
Commercial garage doors can weigh over five hundred pounds and the force influencing the spring can be as strong as the weight of the door. Our experts recommend the use of torsion springs because of the following reasons:
They don't expand or contract
They are safer to use than the extension springs
They ensure smooth operation
They don't move as the door operates
According to our experts, torsion springs are good for replacement after about 10,000 openings. So, if you detect that your door is not opening or closing effectively, seek an expert to perform the repair or replacement. The earlier you notify a spring repair company, the better and safer it is.
Customer Satisfaction Guaranteed
We make sure that our customers get the best value for their money by using the parts that are guaranteed. This way, ADR Garage Door gives customers an assurance of reliability.
ADR Garage Door is a trusted garage door repair company in Richmond Hill with licensed and technicians that are skilled and knowledgeable to handle garage door installation, maintenance, and all manner of repair. If your business is located in GTA and surrounding areas, you can expect that the repairs will be completed in a couple of hours – depending on the extent of damage though.
Feel free to reach us today! Receive a free quote today by calling 647-797-4112 or simply fill our request a quote form.